Feeling overwhelmed about your child's academic achievement this summer? The library has got you covered with so many amazing resources to help families prepare students for school in the fall while still having fun at home!
Libraries' summer reading programs have always aimed to prevent summer slide, when students lose academic achievement throughout the summer months, but this year's summer reading programs at public libraries are more important than ever. With the COVID-19 pandemic forcing online learning this spring, we know that many parents feel overwhelmed and unprepared for their child's learning needs.
North Bergen Public Library is offering a completely virtual summer reading program at https://nbpl.readsquared.com/ for families and community members of all ages! On READsquared participants can log books, play games, complete missions, fill out bingo boards, see our virtual event calendar, and enter to win end of summer prizes! Not only is our summer reading program easy for families but it can help caregivers manage their child's reading during the summer! The librarians have also created fun activities for families to do together and booklists for each age group! For more information about North Bergen Public Library's summer reading program go to the summer reading info sheet!
The library is offering free craft kit pick up this summer on Mondays, Wednesdays, and Fridays at the Main Library, Kennedy Branch Library, and Guttenberg Resource Center! Crafts are a great way for children to practice fine motor skills, develop new vocabulary, and show their creativity!
We also offer free access to Creativebug which has thousands of award-winning art & craft video classes taught by recognized design experts and artists. Creativity can be an amazing way to bring fun into your daily life at home while still fostering skills your child will need for school in the fall!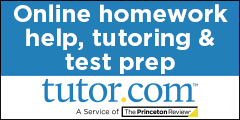 Tutor.com is a free resource available with a North Bergen Library card! Go to tutor.com to make an account and get started! Tutor.com provides test prep, study resources, live tutor sessions, and videos! Even though school is out this summer you can still practice necessary skills such as math and reading on tutor.com!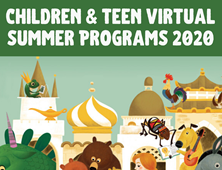 While we cannot offer in-person programming at the library this summer, we have created a full roster of virtual programs for children and families! Library programming can be a great way to keep busy this summer and keep children actively learning! We are offering storytimes, art classes, trivia, book clubs, makers club, sign languages classes, and even bilingual programming! To see a full list of programs go here and to register go to https://nbpl.carrd.co/
For even more resources for parents and caregivers, head to www.nbpl.org/online-resources-for-parents/ and www.nbpl.org/online-resources-for-children/