Sometimes referred to as the "Korean Thanksgiving," Chuseok (also referred to as Hangawi, Jungchujul, or Gabe) is a national holiday of North and South Korea that celebrates the mid-autumn full moon. Families gather to eat, play games, and pray. This major harvest holiday allows for time where Koreans gather with family to pay respect to their ancestors and pray for the year ahead to be a prosperous one. 
There are three important tasks that must be completed: beolcho, seongmyo, and charye. 
Beolcho: Visiting family gravesites and cleaning them up.

Seongmyo: Showing respect, praying, and performing ancestral rites at the gravesites.

Charye: The preparation of offerings to show respect to their ancestors, preparing the table with fruits and songpyeon (rice cakes)
This year, Chuseok will be celebrated Thursday, Sep 28, 2023 – Saturday, Sep 30, 2023. Public figures share their seasons' greetings dressed in hanbok, or traditional Korean clothes, and sharing wishes for a prosperous year ahead. Kpop stars like BTS and Red Velvet have shared photos for their fans!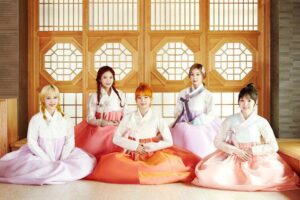 Speaking of Kpop – the North Bergen Public Library has a Kpop Club at the North Bergen Kennedy Library and Recreation Center! During the 3rd Friday of the month from 4-5pm, come meet with other fans to eat Korean snacks, watch music videos, talk and dance!! We will discuss Korean culture and learn about the Hallyu wave. Daebak!