July 27th is National New Jersey Day! Today marks New Jersey officially joining the United States as the 3rd state.  In honor of NJ Day here are some of our most famous residents!
We also have a corresponding display right now at the library!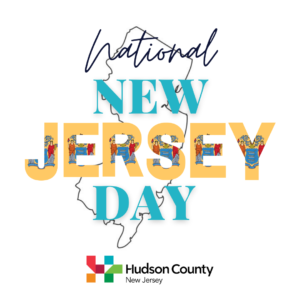 Fashion Designers
Stephen Burrows, (Newark) One of the first Black fashion designers to have high level clientele. He is known for his use of bright colors and lettuce hem and was an integral part of the Fun City movement. After having a meeting with Henri Bendel's President Geraldine Strutz, she offered Burrows his own fashion line.
Elizabeth Hawes (Ridgewood) An outspoken critic of the fashion industry, champion of the ready to wear clothing, and an advocate for gender equality. Her designs were contemporary for the 30s and 40s by including more breathable material into the design.
Claire Potter (Jersey City) One of the inventors of the American sportswear clothes. Potter was famous for her use of color in her designs ranging from bold to neutral. She was also the head designer for Lord & Taylor for many years.
Rachel Antonoff (New Milford) is a modern designer who believes on comfortable clothing and size inclusively. Antonoff is inspired by silhouettes and prints from the 50s-70s. In addition, her collections feature many different sweaters and dresses as they are her favorite pieces to wear. Antonoff also makes videos to highlight her designs instead of using fashion shows.
Entertainment
Jason Alexander (Livingston) George Costanza on Seinfeld
Zac Braff (South Orange) Scrubs, A Good Person
Peter Dinklage (Morristown) Cyrano, Game of Thrones
Kirsten Dunst (Point Pleasant) Bring it On, Spiderman
Ed Harris (Tenafly) Apollo 13, Truman Show
Nathan Lane (Jersey City)  The Producers, Timon(Lion King)
Robert Sean Leonard (Ridgewood) House, Dead Poets Society
Laura Prepon (Watchung) Orange is the New Black, That 70s Show
Zoe Saldana(Passaic) Avatar, Columbiana
Steven Spielberg (Haddon Township) Jaws, Jurassic Park
Jon Stewart (Middletown)  The Problem with Jon Stewart, The Daily Show
John Travolta (Englewood) Grease, Pulp Fiction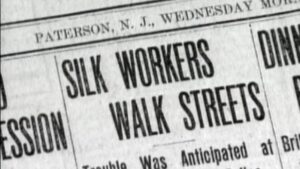 Important Events
Our State as seen a lot since becoming a state. Check out these events you might not heard.
Bell Labs located in Murray Hill, the Lab was built in 1925. American Telephone & Telegraph company used the lab to create small scale projects. At the Lab, the transistor and the laser were invented. Bell Labs partnered with NASA to build the first satellite for communication.
Johnson & Johnson was started by three Johnson brothers in Newark. Their first product was ready to use surgical dressing bandages. Johnson & Johnson were the first company to sell first aid kits commercially.
Newark Airport opened in 1928 and was the first airport to have paved airstrips with lights as well as an air traffic control tower which later was required on all airports.
Patterson Silk Strike started on February 25 1913 and lasted for five months. 25,000 workers went on strike to get better wages and hours from the Patterson Mills. The strike did not help the workers achieve their goals but the Strike was an important step to bring organized labor to workers.
The Morris Canal opened in 1831 and the 102 mile river ran from Phillipsburg to Newark and expanded in 1835 to the Hudson River.
Cherry Hill Mall opened in 1961 and was the first enclosed shopping center on the East Coast. It was the first building to have air conditioning and sits on 1.3 million square feet along with having dual winged megaplex! 
imaged below is the mall from 1962